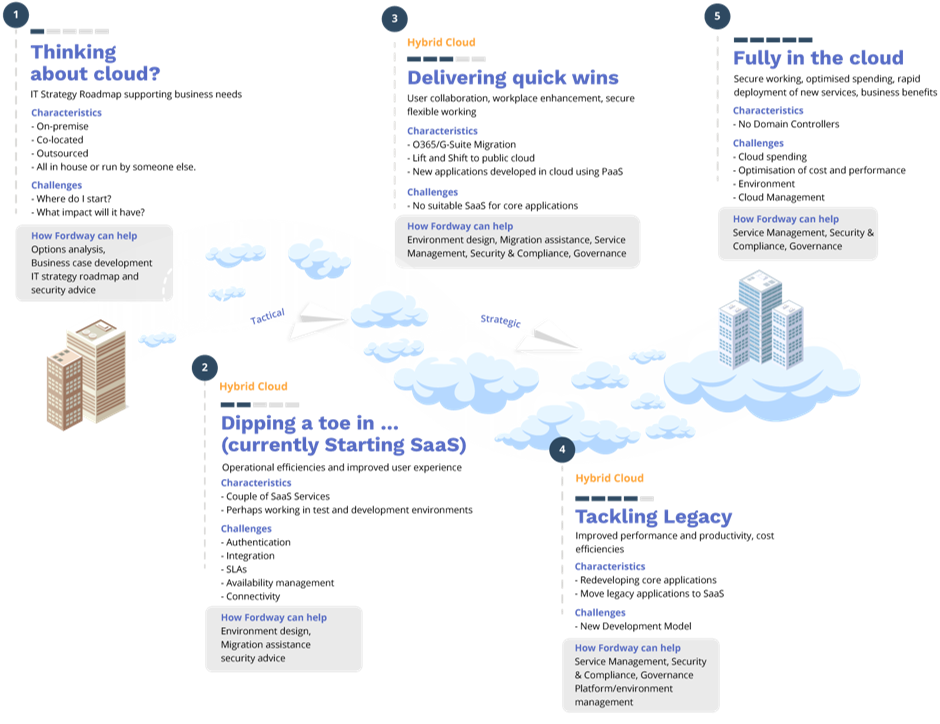 Businesses are under more pressure than ever before to harness digital technologies to deliver competitive advantage and growth. The drive for lower costs, faster services, rapid and continuous improvement are just some of the benefits expected from cloud transformation projects and IT investment.
IT leaders need to minimise risk while enabling innovation and maintaining service delivery excellence. Successful cloud transformation however, requires an organisation to commit to new ways of working, as well as, having the strategy and governance needed to manage complexity and change.
With limited resources, skills set and budget constraints, there are three key areas to focus on : Cost Optimisation, Security and Delivering Flexible Services.
Cloud for Cost Optimisation
Running effective IT services costs money. Simply supporting and maintaining server equipment in-house or in a data centre bring skill and maintenance costs quite apart from those licensing and facilities.
Cloud services and particularly Platform as a Service will reduce your maintenance costs, bring improved security and flexibility.
Take the case of migrating simple web applications to the cloud. In our example a simple Azure S1 PaaS instance can provide secure, flexible and cost effective hosting on a platform that is maintained and patched for you.
Managing cloud costs at scale can be complex. Choosing the right instances for each application or workload and controlling data transfer are key, particularly if you expect your workloads to grow. Selecting the right cloud services will help your organisation ensure that your operating costs are within acceptable limits.
Fixed rate Managed Cloud solutions can be helpful for organisations transitioning from CAPEX budget models who want to avoid unanticipated costs.
For organisations committed to public cloud without the skills to manage billing in-house specialist Cloud Service Integration and Management can help organisations proactively manage costs.
Cloud for Improved Security
For Cloud service providers, good security is essential to business. As result, cloud services meet higher levels of security and regulatory compliance than most IT departments could hope to achieve. To host data for the public sector and regulated industries regular testing to ensure the ISO standards is crucial. Maintaining these standards necessitates the best security practice, technology and staff.
It is essential however, that all organisations understand how to operate cloud securely for their business needs. Particularly with IaaS, less so with PaaS and SaaS, you also retain a number of security responsibilities and, irrespective of who hosts the data, you are responsible for your data and its security.
If you're trusting some of your services to third parties, monitoring is even more vital to ensure you receive the agreed level of performance. Consider looking for a provider offering cloud monitoring, cloud security monitoring or cloud security management.
Cloud for Growth and Flexibility
Scalability and elasticity are key benefits of cloud but to leverage them effectively you need to understand the implications of your choices and skill your staff appropriately.
Scalability allows your organisation to upscale or downscale your cloud services according to demand. Elastic services provide automated provisioning and de-provisioning of services according to demand and workload. Automation itself can allow organisations to rapidly build containers and virtual machines, but you will need staff with DevOps skills in order to do this effectively. Whilst it is possible to move legacy applications to cloud, if your applications are to scale and flex appropriately on the platform, your developers may need to adapt or refactor the code and it can be complex to retrofit. Applications that have been developed natively for cloud will of course be designed to make optimal use of cloud features. If an application is core to your organisation and there isn't a SaaS alternative available, it may be worth investing time and effort to rebuild applications rather than refactor them.
However flexible your cloud platform purports to be, if you have issues of latency caused by network connections or the location of your business this can cause performance issues which can be a barrier to effective service delivery.
Harnessing Software as a Service can also provide flexible options. In the case of flexible working solutions, Desktop as a Service enables workers to access files and applications securely from anywhere with a web browser. This can be great for organisations that have staff on shorter contracts or seasonal working as new users can be provisioned and deprovisioned quickly. Many organisations already leverage Office 365 and Microsoft 365 for improved collaboration and communication. With SaaS services however, you need to ensure the SLA's provided fit your requirements and it is still your responsibility to ensure your data is safely stored and handled.
Final Thoughts
Cloud offers significant business opportunity. In the early stages of cloud adoption, experimentation can allow organisations to provide proof of concept and build skills and confidence. Once an organisation adopts a cloud strategy a more rigorous approach is needed to ensure that costs and security are effectively controlled and that platforms and solutions are built to scale and flex to business demand. Realising the benefits requires a strategic approach and specialist skills and knowledge.