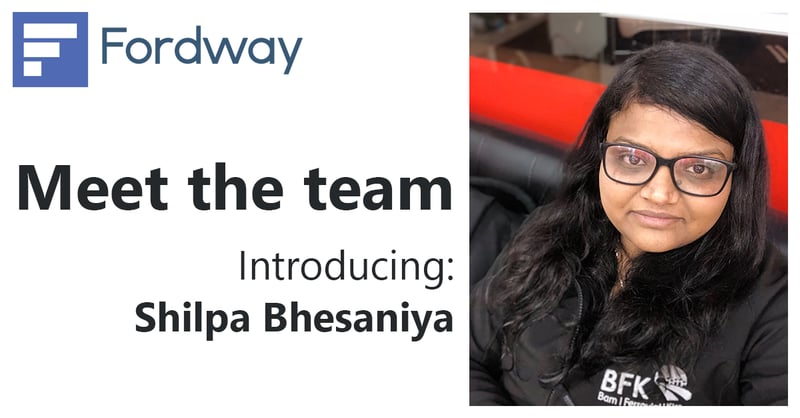 So Shilpa how long have you been at Fordway?
I've been at Fordway for over two years now. I'm part of the on-site team that supports the BFK Crossrail project. I do 1st and 2nd line support here on site.
What do you enjoy most about working at Fordway?
Every day is different. There is such a variety of work. One day I am troubleshooting a Networking issue, then it might be a printer issue and then there are all the different technologies – Cisco Meraki, Microsoft servers, Juniper and HP switches and RFID.
What is also nice is we also work as part of the wider team here so you really get to know the users. Quite often in the first instance calls are logged face to face by people popping into the office. Whatever happens, we're here to make sure the IT supporting the project works. I've found this daily interaction has really built my confidence in handling issues. I've also learnt a lot from Alistair who manages the service desk here for Fordway at BFK.
How did you get in to IT?
Well I did my degree in Electronic and Communications Engineering in India 15 years ago. After that I thought I would do an MSc Business which led me into a career in Human Resources which I didn't enjoy. I realised after 7 years in the UK working in HR, that technology really was my passion and I saved up and negotiated a part time HR role so that I could take time to brush up my IT skills and focus on that. I took time off to self-study the MCSA, CCNA and VMWARE qualifications needed to pursue a career in IT. A friend of mine forwarded my CV to Fordway and I got a call to interview which led to me being offered a role here on-site.
It's been the right decision for me as I enjoy the technical work so much. I think my favourite bit is the networking as it's sometimes really challenging to troubleshoot the issues on-site.
Can you give us an example of what it is like working on site?
The Fordway team here are committed to getting things working for our users even if the issues go beyond our immediate area of responsibility. There's a collaborative spirit on-site and it's a great feeling when Alistair and I troubleshoot and resolve an issue that other external contractors haven't been able to. As you may imagine on a civil engineering project there is constant change and it isn't like a regular office environment at all. Often you have to work out what has changed and what the gaps are in order to define the issue and that's something I really enjoy.
So Shilpa when you aren't on site what do you enjoy doing?
Technology is my passion even at home. Recently, I have been having fun installing small wireless Network camera installations for friends. I enjoy the practical application of IT and it's great to have projects like this. Also, I love going to the movies with my friends.
How would you like to see your career develop?
I'd love to be a full time networking consultant. I think this would utilise my skills, experience and temperament best.