Implementing digital transformation effectively is about more than just putting in new technology – you need to ensure that it aligns to your organisational strategy and fundamentally adds value to your business, or you won't obtain the hoped-for ROI. That's why ITIL 4 should be part of your toolkit for change.
Launched earlier this year, ITIL 4 is the latest version of the ITIL framework for service management. This was originally developed to help organisations improve quality while reducing costs, and is considered the best practice framework for supporting, managing and aligning IT Service Management with the needs of the business. Its fourth iteration was developed to help organisations create value from the products and services that IT supports, and has been described as incorporating all the best things from previous versions while helping organisations navigate the digital world. The update was certainly needed, as ITIL 3 came out back in 2007, when cloud, digital and agile working were in their infancy.
So what's new in ITIL 4 and how can organisations benefit?
ITIL 4 reshapes many of ITIL's established IT service management practices in the context of customer experience, value systems and digital transformation. While previous versions of ITIL were focused solely on delivering services, ITIL 4 also considers the value created by the products and services delivered to the customer. It embraces new ways of working, such as Agile, Lean and DevOps, and an increased reliance on the supply chain.
The ITIL 4 framework has two key components: the Service Value System (SVS) and its four Dimension Model.
SVS provides an operating model to help organisations create, implement and continuously improve IT enabled services and use them to add value to their business and to customers. SVS consists of:
The ITIL Service Value Chain i.e. the operating model for the creation, delivery and continual improvement of services
ITIL Practices i.e. how things are done
ITIL Guiding Principles, which guide the organisation's decisions and actions to provide a shared understanding of and a common approach to IT service management
Governance i.e. the system by which the organisation is directed and controlled
Continual improvement.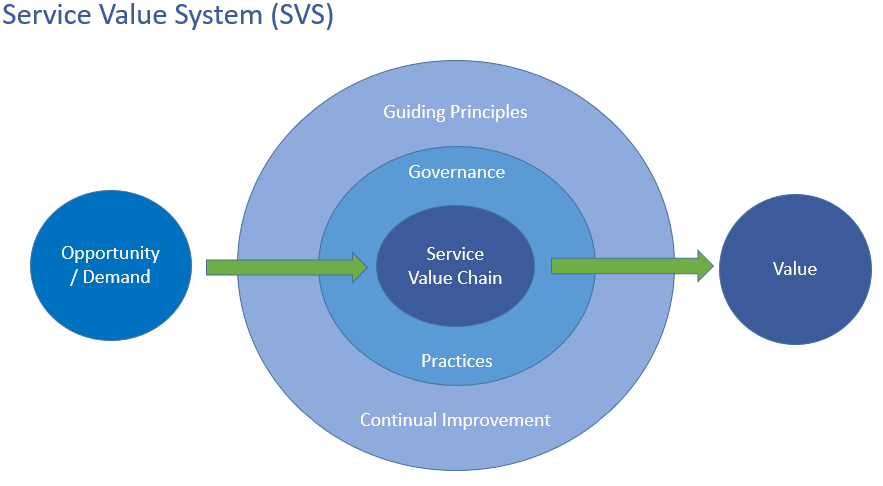 ITIL's four dimensions are the four areas that should be considered to ensure a holistic approach to service management:
organisations and people
information and technology
partners and suppliers
value streams and processes.
Both the service value system in general and each individual product or service an organisation provides to its customers should be reviewed in terms of these four areas to ensure that each adds value to the organisation.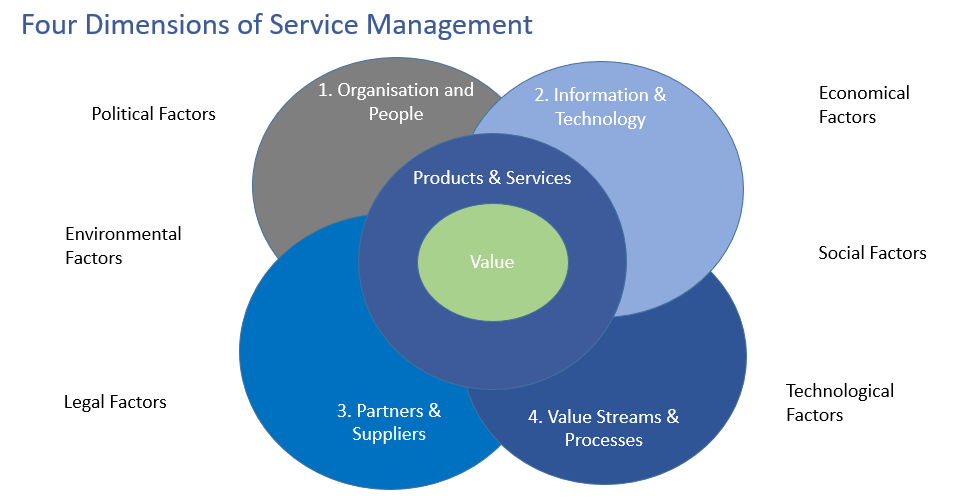 The benefits of ITIL 4 include:
Faster - and more flexible service delivery practices to support digital transformation
Better - strategic alignment between IT and the business
Smoother - integration between software delivery practices and the customer support framework
Improved - service delivery and customer satisfaction
Reduced - costs through improved use of resources
Greater - visibility of IT costs and assets
Better - management of business risk and service disruption or failure.
That's the theory – so how do you put it into practice? In my next blog I'll provide some practical advice on how to use ITIL 4.