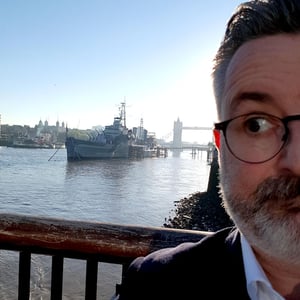 Best practice in IT service support is constantly changing, so it's vital for Fordway to keep pace with the latest techniques and benchmark what we do against the best. To help us, we've recruited a Head of Operations with top level experience: Paul McCann, previously Head of Payment Gateway Operations and Infrastructure at Barclaycard.
We put a few questions to Paul to find out more about what he brings to Fordway and what customers might expect from him and his team.
What were you doing before you came here?
I spent six years at Barclaycard, first as head of client services and then as head of payment gateway operations and infrastructure. My team was responsible for Barclaycard's payment gateways, both in shops and online, handling millions of transactions each year and with clients that include many of the largest high street retailers, grocers and financial institutions. So I'm used to working with business critical systems.
What made you join Fordway?
I'd spent a lot of time working in large organisations, including Dimension Data and Capita before Barclaycard. They're excellent for building up your experience and you work with huge services and systems, but it can be frustrating in terms of accountability and the ability to get things done. I wanted to be empowered to make decisions and see the difference immediately. I also understood the journey Fordway has taken in recent years in building up its managed services capability. I already had experience of transforming operations teams and helping them develop their processes as the business grew and thought my skills would be a good fit.
So are you a technical expert or a manager?
I think I'm both. I began my career in communications in the Navy, in submarines, and then worked as a network engineer at a company very similar to Fordway before moving into team leader and then management roles. The biggest change was learning a different approach to management. In the Navy, people do what you tell them, whereas in civilian life they question you and want to know why they should do something. I had to learn how to make things happen without that unquestioning authority.
What does your role involve?
It's about ensuring that we provide all our customers, whatever their size or line of work, with the best possible service. As organisations increasingly adopt cloud services, especially SaaS, IT becomes just another utility service for them. It's up to us to make sure we provide what they need, when they need it, so that they can get on with their business and simply consume IT services as they need them.
Part of my role involved attending regular reviews with our account teams, so I'll be meeting all our customers as part of that process. But customers can contact me at any time if they're concerned about a service – my door is always open.
How has it been so far?
Busy! My first week coincided with Fordway's annual Customer Strategy Forum, so I was fortunate to meet a number of our customers immediately and start learning about the challenges they face in their organisations and what they expect from us. Since then I've been auditing what we do and looking at ways we can get our operations team in shape for future growth. The Service Desk Institute has clear definitions of what constitutes world class service and guidelines on how to align team to deliver it. I'm currently assessing where Fordway is on that journey and what tools and techniques we should add to move us forward and ensure we're at the top of our game.
What do you do when you're not working?
I still love the sea, but now I like to spend my time on top of it rather than underneath! I really enjoy sailing and I regularly take part in competitions such as the annual Round the Island race.